Led by the two largest pharmacy chains in the nation, the retail clinic industry has sustained moderate growth over the past five years. Walgreen's Take Care Clinic and CVS/pharmacy's Minute Clinic operate the majority of locations; as a whole, the industry has experienced a 39.3% growth rate since 2009 according to data from Chain Store Guide.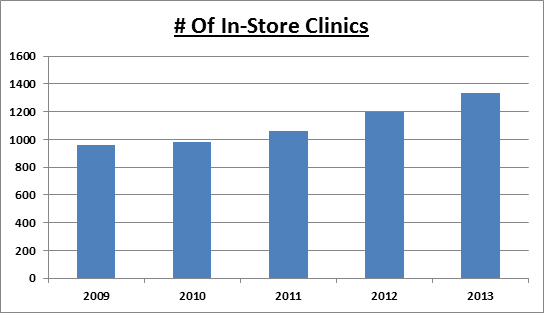 Source: Chain Store Guide's Drug Store and HBC Chains Database
This includes two consecutive years of strong growth at 11% and 14%, respectively. After an initial boom through 2005-2006, the industry was stagnant and many smaller players folded. Now, growth could be poised to be even stronger. The thought process behind this projection is based around the Affordable Care Act. According to a new report by Accenture, The Hill's "Healthwatch", retail clinics could serve as a secondary healthcare source as primary care providers and hospitals might become strained by the influx of newly insured customers entering the market.  The report estimates that in-store retail clinics could experience an annual growth rate of 25% to 30%, raising the number of clinics to more than 2,800 by 2015.
Retail clinics can provide easy access to healthcare options when the scenario is right. A recent visit to my local CVS Minute Clinic proved timely and efficient. I was able to obtain antibiotics for a common sinus infection after receiving the diagnosis, and then walked 10 feet to the nearby CVS pharmacy counter to pick up the prescription. The entire process took less than 45 minutes, all within five minutes from my home. When talking to the nurse practitioner on staff, she stated that it takes a few years to build up the business and obtain a steady customer base. Also, the business fluctuates around certain elements: flu and cold season (of course), the snowbirds in the South (we were at a CVS in Florida) and also student activities that require physicals. Based on my experiences, I'll continue to be a part of that 'steady' customer base.