Company Snapshot: Fredericks of Hollywood Group
Address:
6255 W Sunset Blvd
Hollywood, CA 90028
Telephone:
323-466-5151
Internet Homepage:
www.fredericks.com
Current Stores:
112
Retail Sales:
$111,406,000
Trading Areas: 
AZ, CA, CT, FL, GA, HI, IL, IN, KS, MA, MI, MO, MN, NV,
NH, NJ, NM, NY, OH, OK, OR, PA, SC, TN, TX, VA, WA, WI
Senior Executives:
Thomas Lynch, CEO
Don Jones, President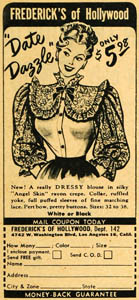 After opening the first store on Hollywood Boulevard, Fredericks of Hollywood became an instant smash with glamorous Hollywood actresses. Because American women worshiped these style icons, it wasn't long before the company would revolutionize the future of fashion. The first company to introduce black lingerie to the United States would soon introduce the world's first push-up bra.
Fredericks of Hollywood was founded in 1946 during World War II.  For decades the women's intimate apparel company was known for its trendsetting and its reputation of flattering women of all sizes. Through the 1980's Fredericks of Hollywood was the market leader, until it was overtaken by Victoria's Secret.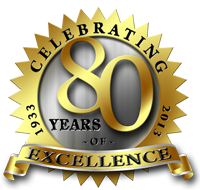 This year, Chain Store Guide celebrates its 80th anniversary. In honor of this occasion, we are hosting a monthly series of editorials called "Chain Store Guide Through The Ages", starting with the 1930s. We will take a look at what was happening in that time and how it affected the industries we now serve. Our Company Snapshots will examine companies from that period and see where they are today.