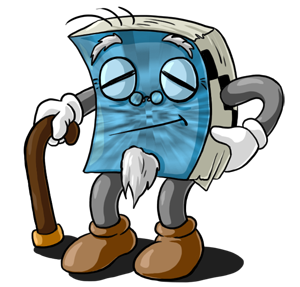 This year, Chain Store Guide celebrates its 80th anniversary. In honor of this occasion, we are hosting a monthly series of editorials called "Chain Store Guide Throughout The Ages", starting this month with the 1930s. We will take a look at what was happening in that time and how it effected the industries we now serve. We would also like to introduce our newest mascot Chain Store Guy as your tour guide through our company's history.
Chain Store Guide In The '30s
The 1930's were a time of great turmoil throughout the United States that brought about a fundamental change in lifestyle for many Americans. The year 1933 was at the heart of the Great Depression, a perilous time that changed the view of the American dream for many unfortunate citizens from one of advancement and opportunity to one of survival. Unemployment was 25%, banks were failing, and strong winds across the Midwest stripped the top soil from drought-stricken farms to begin several years of the infamous Dust Bowls. If you were lucky enough to have a job, average wages were $1,550 per year. Across the Atlantic, Adolph Hitler became Chancellor of Germany and opened the first concentration camp, setting the stage for what would become World War 2 a few years later. Franklin D. Roosevelt became the 32nd President of the United States and immediately set to work addressing the many issues the country was facing through his New Deal initiatives. Perhaps the only bright spot for some people was the repeal of the 18th Amendment, effectively ending national prohibition.
APPAREL INDUSTRY
The apparel industry in the 1930's was very different than it is now. With more Army and Navy goods stores than traditional department stores, apparel was more about need than fashion. There were more than 50 percent fewer Women's stores than Men's stores. There were also more locations that were independently owned than operated by chains. Independents, or companies with 3 stores or fewer dominated the family apparel industry, operating 89 percent of the locations. To put annual sales in the 1930's into perspective, the entire apparel group did around $4 billion in sales, which is what Abercrombie & Fitch brought in last year alone.
Rainbow Apparel Co., which currently operates 1,100 locations was started in the 1930's. So was women's apparel retailer Deb Shops Inc. and sporting goods retailers Dunham's Athleisure Corp. and Recreational Equipment Inc. (REI). The decade also brought us women's apparel retailer Maurice's which spent the early years of this century acquiring Dressbarn and Justice and becoming Ascena Retail Group Inc.
DISCOUNT INDUSTRY
One might think that during a tumultuous time like The Great Depression, discount stores would have been in great demand. Unfortunately the births of Walmart, Target and Kmart were three decades off. At this time, variety stores were all the rage typified by the five and ten cent concept embodied by Woolworth stores.
Founded in 1879, Woolworths actually were the discount stores of their day. They sold discounted general merchandise mostly at the much publicized set prices of five or ten cents which essentially became their moniker and brand. This proved to be a great merchandising aid as tough times such as the depression hit, as consumers knew how far their limited funds could carry them. In a sense this concept was the precursor to the single priced dollar store, such as Dollar Tree, which was five decades from creation.
International in scope, Woolworths also was somewhat of a forbearer to the McDonald's type of branding in offering product to travelers who seek consistency in quality and price as they arrive at locations unknown. In the case of Woolworths, their stores were the recipient of even international travelers who sought familiar fare when far away from home. This was especially true of their lunch counters which were magnets for the hungry and thirsty whether seeking a meal, a hearty snack or refreshments.
Across the seventeen files that make up Chain Store Guide's database of Discount Stores & Specialty Retailers 168 were founded during the decade we term the The Threadbare Thirties. Some of the more prominent retailers included on this prestigious list include the Hewlett-Packard Company, Harry & David and Meijer Inc., as a single unit grocer, seen as an answer to some of the woes of the Great Depression. The big box food and general merchandise/discount concept was initiated nearly thirty years later under the trade name Thrifty Acres. At the very end of the decade, in 1939, Dollar General was founded, a true sign of the times and a harbinger of future consumer buying trends.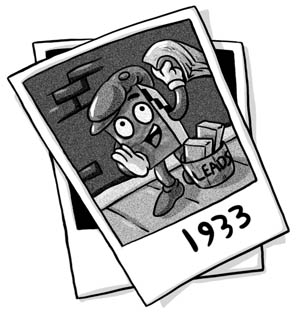 DRUG INDUSTRY
A typical drug store in the 1930's was quite different than it is today. For example, Schwab's Pharmacy was a drug store located in Hollywood, California. It was a popular local hangout for movie actors and movie industry dealmakers from the 1930's through the 1950's. Like many drug stores in the United States throughout the mid-twentieth century, the Schwab location sold medicines, but also had a counter serving ice cream dishes, light meals, and drinks. According to the Census Bureau, there were over 58,000 drug stores in operation at the beginning of the decade. 54,500 of those were operated by one, two, and three store independent companies. Over half of the drug store locations provided soda fountains – a concept Walgreens has rehashed into some of its new locations. According to Chain Store Guide, only 36 drug chains were founded in the 1930's that are still in existence today, including Hi-Scholl Pharmacy, King Pharmacy, and Kopp Drug
HOME & HARDWARE INDUSTRY
After publishing the first Chain Store Guide in 1933, entitled The List of Restaurant Chains, Chain Store Guide founder Irving Slobod embarked on his next two projects. This resulted in guides for Auto Accessories Chains and Hardware Chains, which were published in 1934.
Mr. Slobod felt that while the economic devastation brought on by the Great Depression had all but killed consumer abilities to afford, much less seek new homes and/or cars, repairs were more necessary than ever. Mr. Slobod saw these two industries as aligned and recession proof. Ultimately they were published as one volume under several iterations of the title of Directory of Hardware and Auto Supply Chains through 1979.
During the 1930's, home centers, which preceded bigger box, home center warehouses were decades from entering the scene. Local hardware stores and paint dealers were in demand as consumers tried to maintain their homes as best as they could afford.
Entering the decade there were more than 25,000 hardware stores scattered across the country. To help manage their many challenges for survival in a harsh economy, Ace Hardware had been founded in 1924 and was incorporated in 1928 just before the Great Depression hit. To many independent hardware retailers at the time the concept of a co-op was a godsend, as it offered a haven of economically priced products with the beginnings of instruction on modern day merchandising.
RESTAURANT INDUSTRY
In the 1930s, choices for dining out were pretty limited: automats, cafeterias, coffee shops, and full-service fine dining restaurants. With high unemployment and low wages, eating out wasn't an option that many folks exercised. For those who did venture out, they might have found (depending on where they lived) an A&W Restaurant, Big Boy, Bridgeman's, K&W Cafeteria, Krystal, Pat O'Brien's, Peter Luger, S & S Cafeteria, Trader Vic's, or White Castle. However, despite the ongoing recession, government figures show that the number of restaurants rose more than 25% during the decade, likely encouraged by the repeal of Prohibition in 1933.
SUPERMARKET / GROCERY INDUSTRY
The supermarket industry was much different in the 1930's than today; small independent meat markets and grocery stores were abundant. According to the Department of Commerce Census Bureau, there were over 190,000 grocery store locations without meats at the beginning of the decade, many of which were independently owned. 91,000 locations were in operation that sold meat products, while there were over 23,000 meat markets that sold groceries. The list of supermarket chains that were founded in the 1930's is impressive, and many are still in operation today as strong regional players. The list includes Publix Super Markets, Giant Eagle, Hy-Vee, Stater Bros., Raley's, Schnucks, King Kullen, Fareway Stores, and Marsh Supermarkets. By the end of the decade, chain store companies began refining the supermarket concept originally dominated by independents and small regional chains. Supermarket pioneer The Great Atlantic and Pacific Tea Company began consolidating its thousands of small service stores into larger supermarkets, often replacing as many as five or six stores with one new, larger one.
Don't forget to read our Company Snapshot follow up stories that will spotlight a company from each industry in this decade. You can read them later this month on our NewsRoom page, or by signing up to our email newsletters.
Written By:
Apparel & Department – Natasha Perry
Drug & Grocery – Brian List
Home, Hardware, & Discount – Arthur Rosenberg
Restaurant – Linda Helman
Editing – Matthew Werhner
Read all of our Chain Store Guide Through The Ages series: