As it nears the end of its 50th anniversary year, Taco Bell continues to reinvent itself as it moves into its next half-century of operation. Founded in 1962 in Downey CA by Glen Bell, Taco Bell may not have been possible if Glen Bell hadn't also invented the preformed taco shell a decade earlier! Two years after its founding, the company began franchising, and by 1967, it was up to 100 locations.
In 1970, Taco Bell became a publicly-held corporation with 325 stores. In 1978 it was sold to food industry giant PepsiCo, which also owned KFC and Pizza Hut among other restaurant brands. The chain nearly tripled in size under PepsiCo leadership — when it was sold to Tricon Global almost 20 years later, the chain had ballooned to more than 6,700 domestic units and 200 international locations. The company had also begun co-branding or co-locating with other PepsiCo concepts, a business model that was a major growth driver for many years. Tricon Global, by the way, was shorthand for TriConcepts, reflecting the company's three brands: KFC, Pizza Hut, and Taco Bell. In 2002, Tricon became YUM! Brands when it acquired Yorkshire Global Restaurants and its A&W and Long John Silver's brands. (The latter two chains were subsequently sold in December 2011.)
Over the intervening years, YUM! downsized the Taco Bell chain from more than 6,400 locations at the end of 2002 to just over 5,800 by the end of 2007. However, in recent years, Taco Bell has begun slowly growing again, and going forward the focus will be on re-franchising corporate stores and reducing company ownership down to about 16%.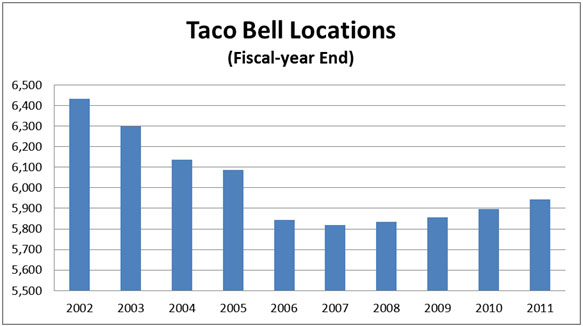 Source: Chain Store Guide Database of Chain Restaurant Operators
Taco Bell serves 2 billion tacos and a billion burritos each year. The chain also serves chalupas, gorditos, Mexican pizza, and other Mexican-inspired dishes. It now owns 50% of the Mexican QSR market share according to its most recent annual report.
Beginning in 1989, the company urged consumers to "Make a Run for the Border." In the late 1990s, Gidget the Chihuahua was frequently seen on TV proclaiming "Yo Quiero Taco Bell" (I want/love Taco Bell). In 2002, the company's slogan became "Think Outside the Bun," encouraging consumers to consider options to the ubiquitous hamburger. Earlier this year, the chain introduced "Live Mas" (Live More) as its new mantra. As part of its reinvention, the company hired celebrity chef Lorena Garcia to develop the Cantina Bell menu — a Cantina Burrito and a Cantina Bowl – sold at a slightly higher price point but touted as being fresh, healthier than many other options, and tasty. Also new this year: the Doritos Locos Taco with a taco shell made from Nacho Cheese Doritos, an item that Nation's Restaurant News recently cited as the most successful product launch in the chain's 50-year history. And after finding considerable success with the idea of the Fourth Meal (late night), Taco Bell introduced First Meal (breakfast) at hundreds of locations this year.
As it goes forward, identifying good locations is critical to its continued growth and success. Taco Bell real estate criteria include: freestanding locations with drive-through on minimum 35,000-square-foot lot with 140-foot frontage and 250-foot depth, preferably at the corner of a lighted intersection or on a shopping center outparcel. The space needs to be highly visible, easily accessible & on the going-home side of the road with parking for 35 cars. The building itself should be 2,500-3,200 square feet with seating for 60-85. The company also seeks a population of 20,000+ in the immediate trading area and a traffic count of 25,000+ vehicles per day.
________________________________________________________________
 In the month of November, Chain Store Guide received responses from 297 restaurant operators with at least five locations. Of the companies surveyed, more than 7% said that they are planning to implement Apple mobile devices for use inside their restaurants. Android devices and other tablets will be implemented by less than 2% of the operators. However, 90% of the respondents are currently not planning to implement any mobile devices within the next 12 months.