Perennial grocery leader H-E-B is facing stiff competition in key markets across Texas. With a steady economy and growing population, large metros in the state have been favorable for expansion. Houston, San Antonio, and Austin are H-E-B's leading markets, and the company dominates market share.  However Target, Walmart, Whole Foods and Trader Joe's have opened new stores. Additionally Kroger, Aldi, and Costco have plans to open new Texas stores over the next two years.
Ranked as one of the largest privately-owned companies in the U.S., H-E-B generated over $18 billion in total revenue last year (including its Mexico operations). According to Chain Store Guide's Supermarket, Grocery, & ConvenienceStore Chains database, the company operates at yearly sales per square foot volume of nearly $1,200.
Based on Chain Store Guide data, H-E-B holds the #1 market position in the aforementioned markets; because of their size, there are currently hundreds of other food retailers in these markets while others are planning to open stores next year.
Top H-E-B Markets*
Based on Area Stores

*Source: 2012Chain Store Guide Grocery Industry Market Share Report
For detailed information on the grocery markets profiled above, as well information on the retailers mentioned with growth plans into Texas, please contact Chain Store Guide.
________________________________________________________________
In the month of October, Chain Store Guide received 30 responses from supermarket chains with at least five locations. 4% of the companies surveyed said its locations are currently using an iPad, while 3% also stated its locations are using an iPhone. while 93% stated they currently are not using any mobile device.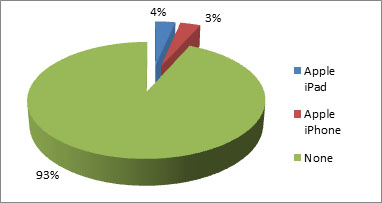 Source: Chain Store Guide's Supermarket, Grocery & Convenience Store Chains Database