Coming Soon – 2012 Leading Chain Tenants Directory 
Each year at this time, Chain Store Guide takes a snapshot of the Leading Chain Tenants database and compiles a print directory. This static product is derived from the dynamic online database and presents a representative view of the retail and foodservice real-estate markets.


Among the many data elements captured for all companies that operate five or more locations is information about planned expansion and remodeling. As reported in last month's Leading Chain Tenants industry insight newsletter, 92% of the retailers surveyed by CB Richard Ellis for its Shop Talk: A Retailer's Perspective reported plans to expand the number of locations. Data from the current CSG Leading Chain Tenants database support these findings, with more than 1,200 companies planning to open more than 23,000 new locations in the next 12 months.
As has been the case in recent years, restaurant operators are leading the way, accounting for more than half of the companies and of the proposed new stores. Apparel specialty companies and discount/general merchandise operators have scaled back expansion plans compared to last year but still plan to open nearly 3,400 new locations. Significantly stepping up growth plans are the convenience store and supermarket industries. The following graph depicts the expansion plans of the ten most active market segments.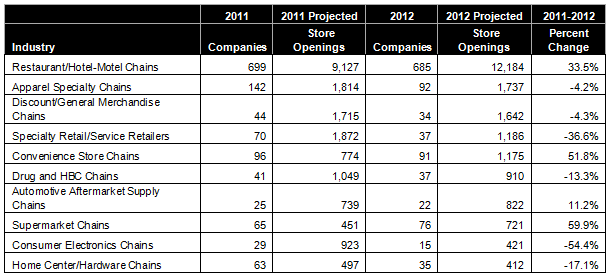 Source: Chain Store Guide database of Leading Chain Tenants
A major trend developing over the past year is the scaled-down prototype, not only for new construction but also existing stores. Best Buy is seeking to sublease space within its stores to businesses such as grocers, home furnishing retailers, and other businesses that don't compete for the same consumer dollars. Macy's just announced plans to consolidate its nine-floor store in Pittsburgh to six floors. David Kaplan at the Houston Chronicle noted that in his city, Office Depot, Best Buy, Old Navy, and Ashley Furniture HomeStores are all working to downsize some of their existing stores. And in one of the more overt and aggressive indications of this trend, the Wall Street Journal noted that Sears Holdings Corp. has listed on its home page nearly 4,000 Sears and Kmart stores in which other merchants or retailers could set up shop. Per WSJ, Sears already has two lease deals in place, one for an athletic club to move into part of a Kmart store in San Diego and one for a specialty grocery store to open in another California Kmart.
As the table below illustrates, restaurant operators are expecting to make the most changes to existing locations, 
but consumer electronics and discount/general merchandise companies aren't far behind.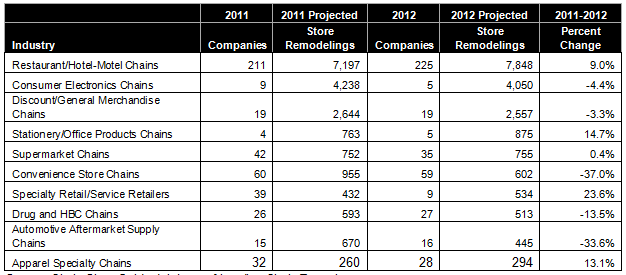 Source: Chain Store Guide database of Leading Chain Tenants
The Leading Chain Tenants database is available in multiple formats, including print directory, Lite, Pro, and Plus online database formats.  To schedule an online demonstration call 1-800-778-9794 today.
Linda Helman, Research Editor

Linda Helman, Senior Editor
Linda has worked at Chain Store Guide for twelve years. Prior to that, Linda worked as a research economist for the federal government, as an analyst for a management consulting firm and as a freelance writer. Please

contact her

if you have questions or comments.